Shop With Intention & Purpose
Through purchasing some Louv natural intimates you will create the most amazing positive ripple effect for yourself and others.
Your timeless garment is hand crafted by artisans we cherish and support.
It is created using an innovative eco-friendly fabric made from sustainably sourced wood pulp and hand dyed using botanical dyes.
Not only are you looking after your sacred body by choosing toxin free underwear but you are creating a more sustainable future and helping preserve the precious ancestral practice of working with plant dyes!
The Wonders Of Lyocell Tencel™
Lyocell Tencel™ is a patented product developed by the European Company; Lenzing.
Our products have the official certification by Lenzing.
Eucalyptus or Beech trees are grown sustainably and then their pulp is transformed into a thread using completely toxin free solvents and glues in a full loop process that has no waste and uses very little water. The result is a beautiful strong silky thread that is biodegradable.
Fabric Highlights:
- Soft and silky.
- Binds very well with plant dyes.
- Biodegradable.
- Eco friendly production process.
-Naturally antimicrobial.
-Highly Breathable.
The combination of Lyocell Tencel & Plant Dyes creates divine luxurious intimates.
Coloured With Botanicals
Our beautiful earthy colours are all crafted from plants!
We've been working with the same team of talented artisans since 2007.
We believe it's a precious traditional knowledge worth preserving!
We love that these dyes are toxin free, good for you, the Earth and the artisans.
We only use leaves or barks, no food.
Our plants are organically grown specifically for the dyeing purpose.
After the colours are extracted, the water released is tested to ensure it has a neutral pH level and the plants waste are sent back to the land for composting.
This whole process supports many artisans, families and communities in Bali.
Thank you for supporting this vision.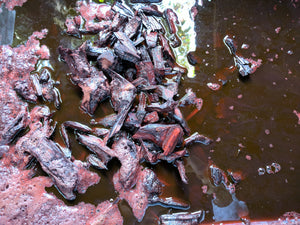 We Are Plastic Free
Your intimates will be beautifully wrapped in our handmade string bags and shipped using plastic free mailers.
Follow Us On Instagram
TAG US @louv_kind to be featured